Goats@Grace Hill HS Cinderella
(aka Ella)
Nigerian Dwarf Doe
DOB: 05/27/21
ADGA#: D2173652
Disbudded
ADGA Pedigree
Kidded
2022: Kidded 05/06/22

1 buckling, 1 doeling (Beru)
DHIR/LA
2022 (FF): DIM   In Progress

01-03 G+++ 77 –  V in Front Legs & Back, + in Dairy Strength, Body, Mammary, Rear Legs, Feet. G in General Appearance, Head, Shoulders. F in Rump
Show History
2022: ADGA National Show, Harrisburg, PA
2021: Schuylkill County Fair, Auburn, PA

2nd Place – Junior Doe Age Class
1st Place – Dam & Daughter
Pedigree information listed for reference only. The following are not all owned by Grace Hill Farm and all show & picture credit is listed accordingly.
Sire
Better Wayz Hammer In the Sky *B
Nigerian Dwarf Buck
DOB: 02/27/2016
ADGA#: D1885168
Disbudded
ADGA Pedigree
Better Wayz Hammer In the Sky *B (aka Thor), is the son to the littermate sister of the highest appraised Nigerian – SGCH Old Mountain Farm Swift-Leigh EEE93 and his sire's dam is SG NC Promised Land MG Diva VEEE91 who has the highest PTI to date – PTI21: 575 & PTI12: 354. This gorgeous guy throws consistent correct structure and great milking ability which are being proved in his daughters – Check out A Little Funny Farm HS Syrah 6*M VVVV88 and A Little Funny Farm HS Mai Tai 6*M VVEE90.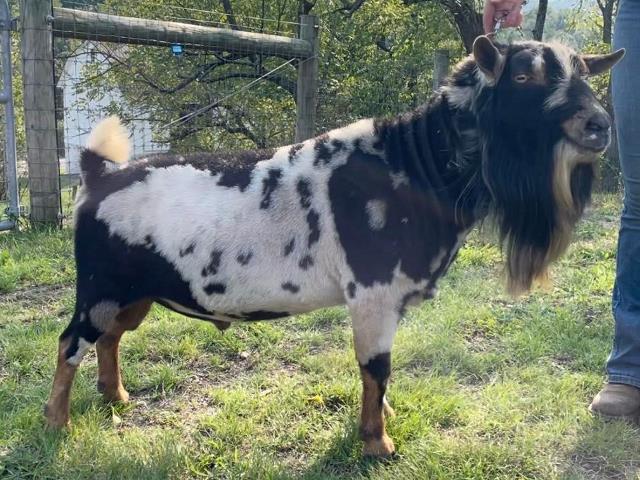 Dam
Nigerian Dwarf Doe
DOB: 05/14/19
ADGA#: D2026262
Disbudded
ADGA Pedigree
Rapunzel is a lovely doe who slow to mature but we expect her to be just as correct has her dam, SG India Blue JD Endless Love 2*M VVEE 90. Rapunzel should easily earn her milk star on test in 2022 and hoping for an appraisal as well. Judges consistently remark at her correctness and want to see her with another freshening to mature. Exciting to watch her develop!!
Sires's Sire
SG Old Mountain Farm Elton Jay ++*B
Elite 85 VEE
ADGA#: D1670916
Sire's Dam
SG Old Mountain Farm Oliv a Suddn 3*M 89 EEVV
ADGA#: D1508468
Extended Pedigree
SSS: Bright Farms V Jedi Edition *B
SSSS: GCH Buffalo Clover Valentino ++B +S EEE91
SSSD: SGCH J-Nels ER Dumplin 2*M VEEE90
SSD: Hi-Lo Farm Mokie 1*M VEEE90
SSDS: Wooly Dog Down Amaretto Freeze
SSDD: Hi-Lo Farm Amber Rose