BREEDING SCHEDULE – FALL 2023/SPRING 2024
Due to the high demand for Nigerian Dwarf goats, we will not be able to fulfill all requests. If you would like to be added to our waiting list, please fill out the contact form with your information.
Pet Goat Prices
Pet goats are not to be intended for breeding.
Wether – $200 each
Doe – $300 each
Breeding Goat Prices
Breeding goats are priced base on the quality of the goat and genetics. We are a member of ADGA Plus which means we participate in LA, Milk Testing, and DNA evaluation. Some of our goats have amazing genetics, milking ability and conformation, thus reflected in the price. Superior Genetics (SG) indicates that a goat is in the top 15% of the breed and Elite are in the top 5% of the breed. Please note that some of our linebreeding numbers may differ from ADGA Genetics website. This is because their database is not complete. We keep our own database via Kintraks where we've searched back through ADGA to find the most accurate data on ancestors.
Buck – $600-$900 each
Doe – $600-$1,300 each
As we continue to focus on improving our herd and the breed, our desire is to place as many kids into Performance Herds that participate in ADGA's programs – LA, Milk Testing, DNA evaluation, and Sanctioned Shows. Performance Herds have priority on all reservations.
Sire: Flat Rock's FRS Jack Daniels
Dam: Proctor Hill RT Destare 1*M
VVVV 89
Bred: TBD – Fall 2023
Due:
Kidded:
Sire: SG Alitta TS Eye of Freedom ELITE
Dam: SG Sweet Garden FC English Ivy 4*M
Bred: TBD – Fall 2023
Due:
Kidded:
Sire: Kyeema Ridge Big Time +B VEE87
Dam:SG Better Wayz Swiss Miss Carabear 3*M VEEE92 Elite
Bred: TBD – Fall 2023
Due:
Kidded:
Sire: Phoenix Farm Vanilla Ice +B
Dam: SG Better Wayz Swiss Mocha 4*M VEEE91
Bred: TBD – Fall 2023
Due:
Kidded:
Sire: SG Old Mountain Farm Elton Jay ++*B
ELITE VVE 85
Dam: SG Better Wayz Pippi Pop 6*M
VEVV 86
Bred: TBD – Fall 2023
Due:
Kidded:
Sire: SG Old Mountain Farm Elton Jay ++*B
ELITE VVE 85
Dam: SG Better Wayz Sirocco's Grace 5*M
VEEE 90
Bred: TBD – Fall 2023
Due:
Kidded:
Sire: Better Wayz Hammer in the Sky *B
VVE 88
Dam: A Little Funny Farm Bailey's 6*M
Bred: TBD – Fall 2023
Due:
Kidded: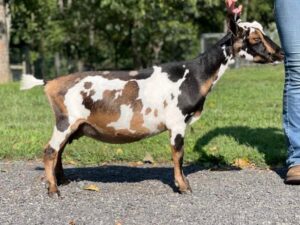 Sire: Better Wayz Hammer in the Sky *B
VVE 88
Dam: SG India Blue EOF Jinsing 5*M
VEV+ 86
Bred: TBD – Fall 2023
Due:
Kidded:
Sire: Better Wayz Hammer in the Sky *B
VVE 88
Dam: SG India Blue EOF Jinsing 5*M
VEV+ 86
Sire: Better Wayz Hammer in the Sky *B
VVE 88
Dam: India Blue N Azalea 6*M
Bred: TBD – Fall 2023
Due:
Kidded:
Sire: A Little Funny Farm SpiderRoll *B +VE 84 (yearling)
Dam: Goats@Grace Hill HS Foxglove +V+V 86 (yearling)
Bred: TBD – Fall 2023
Due:
Kidded:
Goats@Grace Hill HS SabineWren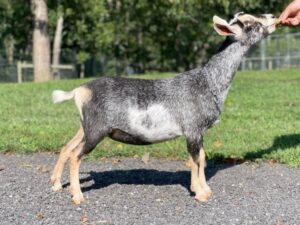 Sire: Better Wayz Hammer in the Sky *B
Dam: SG India Blue JD Endless Love 2*M VVEE 90
Bred: TBD – Fall 2023
Due:
Kidded:
Goats@Grace Hill H Bo-Katan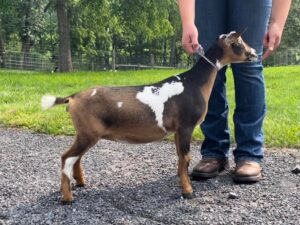 Sire: Kyeema Ridge Hurricane +B VEE 90
Dam: Goats@Grace Hill HS Foxglove +V+V 86 (yearling)
Bred: TBD – Fall 2023
Due:
Kidded:
Sire: PPFBG PPFBoers Uriah's EZ Does It (OT)
Dam: PPFBG PPFBoers Braveheart's Shades of Amber
Bred: TBD – Fall 2023
Due:
Kidded: