Due to the high demand for Nigerian Dwarf goats, we will not be able to fulfill all requests. If you would like to be added to our waiting list, please fill out the contact form with your information. At this time, we are accepting reservations for kids born in Spring 2022. We can not guarantee kids until they are born.
Pet Goat Prices
Pet goats are not to be intended for breeding.
Wether – $150 each
Doe – $250 each
Breeding Goat Prices
Breeding goats are priced base on the quality of the goat and genetics. We are a member of ADGA Plus which means we participate in LA, Milk Testing, and DNA evaluation. Some of our goats have amazing genetics, milking ability and conformation, thus reflected in the price. Superior Genetics (SG) indicates that a goat is in the top 15% of the breed and Elite are in the top 5% of the breed. Planned breedings are from ADGA Genetics which may be incomplete at this time. Linebreeding % and Contributors based on 8 generations via Kintraks.
Buck – $350-$750 each
Doe – $350-$750 each
As we continue to focus on improving our herd and the breed, our desire is to place as many kids into Performance Herds that participate in ADGA's programs – LA, Milk Testing, DNA evaluation, and Sanctioned Shows. Performance Herds have priority on all reservations.
Sire: Flat Rock's FRS Jack Daniels
Dam: Proctor Hill RT Destare 1*M
Sire: Better Wayz Hammer in the Sky *B
Dam: Zanzabeez TS California Roll1*M
Due: Spring 2022
| Does | Bucks |
| --- | --- |
| $750* | $700 |
| Reservations Open | Reservations Open |
*May retain at least one
1.16% Linebreeding on 8 generations
Top Contributors
| | |
| --- | --- |
| STONEWALL'S RAISING ARIZONA | 0.25% |
| GOODWOOD PENNY LANE | 0.24% |
| STONEWALL'S MIDNIGHT COWBOY | 0.10% |
| GOODWOOD MR PERIWINKLE | 0.10% |
| GOODWOOD MINDY | 0.07% |
Sire: SG Alitta TS Eye of Freedom ELITE
Dam: SG Sweet Garden FC English Ivy 4*M
Due: Spring 2022
| Does | Bucks |
| --- | --- |
| $650* | $600 |
| Reservations Open | Reservations Open |
*May retain at least one
1.11% Linebreeding on 8 generations
Top Contributors
| | |
| --- | --- |
| ROSASHARN'S TL ZENITH | 0.22% |
| TWIN CREEKS BH BAY WATCH | 0.16% |
| ROSASHARN'S UMT HAMACHI | 0.15% |
| STONEWALL'S RAISING ARIZONA | 0.08% |
| ROSASHARN'S TIGER L | 0.07% |
Sire: Better Wayz Hammer in the Sky *B
Dam: Zanzabeez TS California Roll1*M
Due: Spring 2022
| Does | Bucks |
| --- | --- |
| $500* | $450 or $150 Wether |
| Reservations Open | Reservations Open |
*May retain at least one
1.69% Linebreeding on 8 generations
Top Contributors
| | |
| --- | --- |
| GOODWOOD WATER LILLY | 0.38% |
| ROSASHARN'S TIGER L | 0.35% |
| GOODWOOD TOM THUMB | 0.23% |
| STONEWALL'S RAISING ARIZONA | 0.14% |
| ROSASHRN'S UNDER MY THUMB | 0.13% |
Due: Spring 2022
| Does | Bucks |
| --- | --- |
| $500 | $150 Wethers Only |
| Reservations Open | Reservations Open |
*May retain at least one
.90% Linebreeding on 8 generations
Top Contributors
| | |
| --- | --- |
| BUFFALO CLOVER VALENTINO | 0.39% |
| ROSASHARN'S TL ZENITH | 0.11% |
| TWIN CREEKS BH BAY WATCH | 0.08% |
| ROSASHARN'S UMT HAMACHI | 0.07% |
| PECANHOLLOW WILLY'SDANCE FEVER | 0.04% |
Sire: India Blue J Kentucky Bourbon
Dam: SG India Blue JD Endless Love 2*M
Sire: Better Wayz Hammer in the Sky *B
Dam: Zanzabeez TS California Roll1*M
Due: Spring 2022
| Does | Bucks |
| --- | --- |
| $500* | $150 Wethers Only |
| Reservations Open | Reservations Open |
*May retain at least one
.43% Linebreeding on 8 generations
Top Contributors
| | |
| --- | --- |
| STONEWALL'S RAISING ARIZONA | 0.11% |
| STONEWALL'S MIDNIGHT COWBOY | 0.08% |
| GOODWOOD MINDY | 0.06% |
| GOODWOOD PENNY LANE | 0.05% |
| GAY-MOR BERRY'S JOHNNY JUMP-UP | 0.10% |
Due: Spring 2022
| Does | Bucks |
| --- | --- |
| $450* | $150 Wethers Only |
| Reservations Open | Reservations Open |
*May retain at least one
.88% Linebreeding on 8 generations
Top Contributors
| | |
| --- | --- |
| TWIN CREEKS BH BAY WATCH | 0.32% |
| TWIN CREEKS BRAVE HEART | 0.08% |
| ROSASHARN TOM'S BIT-A-WILLY | 0.07% |
| RAHA ACRES TWINK'S PIXIE | 0.07% |
| ROSASHARN'S TL ZENITH | 0.05% |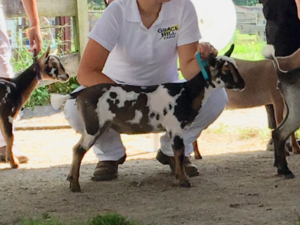 Sire: Better Wayz Hammer in the Sky *B
Dam: SG India Blue EOF Jinsing 5*M
Due: Spring 2022
| Does | Bucks |
| --- | --- |
| $450* | $150 Wether Only |
| Reservations Open | Reservations Open |
*May retain at least one
.79% Linebreeding on 8 generations
Top Contributors
| | |
| --- | --- |
| ROSASHARN'S TL ZENITH | 0.11% |
| PROMISEDLAND MY FAIR LADY | 0.10% |
| TWIN CREEKS BH BAY WATCH | 0.08% |
| ROSASHARN'S UMT HAMACHI | 0.07% |
| STONEWALL'S RAISING ARIZONA | 0.08% |
Sire: Better Wayz Hammer in the Sky *B
Dam: SG India Blue EOF Jinsing 5*M
Sire: Better Wayz Hammer in the Sky *B
Dam: Zanzabeez TS California Roll1*M
Due: Spring 2022
| Does | Bucks |
| --- | --- |
| $550 | $150 Wether Only |
| Reservations Open | Reservations Open |
*May retain at least one
13.39% Linebreeding on 8 generations
Top Contributors
| | |
| --- | --- |
| BETTER WAYZ HAMMER IN THE SKY | 6.39% |
| OLD MOUNTAIN FARM OLIV A SUDDN | 1.56% |
| OLD MOUNTAIN FARM ELTON JAY | 1.56% |
| DAWNLAND TABBY'S HALIFAX | 0.85% |
| OLD MOUNTAIN FARM SUDDENLY | 0.59% |
Sire: Phoenix Farm DE Pop Rocks ELITE
Dam: Goats@Grace Hill KB Jasmine
Sire: Better Wayz Hammer in the Sky *B
Dam: Zanzabeez TS California Roll1*M
Due: Spring 2022
| Does | Bucks |
| --- | --- |
| $500 | $150 Wether Only |
| Reservations Open | Reservations Open |
*May retain at least one
1.84% Linebreeding on 8 generations
Top Contributors
| | |
| --- | --- |
| NC PROMISEDLAND MG DIVA | 0.78% |
| GOODWOOD WATER LILLY | 0.12% |
| ROSASHARN'S TIGER L | 0.11% |
| PROMISEDLAND CP SEYMORE SPOTS | 0.10% |
| ROSASHARN TL CAULDRON | 0.10% |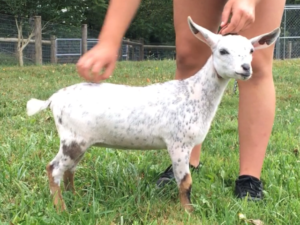 Sire: Better Wayz Hammer in the Sky *B
Dam: Goats@Grace Hill KB Rapunzel
Due: Spring 2022
| Does | Bucks |
| --- | --- |
| $500 | $150 Wether Only |
| Reservations Open | Reservations Open |
*May retain at least one
.85% Linebreeding on 8 generations
Top Contributors
| | |
| --- | --- |
| BUFFALO CLOVER VALENTINO | 0.20% |
| TWIN CREEKS LS LUCK OFTHE DRAW | 0.15% |
| PROMISEDLAND MY FAIR LADY | 0.10% |
| RAHA ACRES TWINK'S PIXIE | 0.07% |
| ROSASHARN TL CAULDRON | 0.07% |
Sire: Better Wayz Hammer in the Sky *B
Dam: Zanzabeez TS California Roll1*M
Due: Spring 2022
| Does | Bucks |
| --- | --- |
| $500 | $150 Wether Only |
| Reservations Open | Reservations Open |
*May retain at least one
1.76% Linebreeding on 8 generations
Top Contributors
| | |
| --- | --- |
| NC PROMISEDLAND MG DIVA | 0.78% |
| PROMISEDLAND CP SEYMORE SPOTS | 0.10% |
| ROSASHARN TL CAULDRON | 0.10% |
| GOODWOOD WATER LILLY | 0.09% |
| GOODWOOD PENNY LANE | 0.09% |