Goats@Grace Hill HS Foxglove
(aka Foxy)
Nigerian Dwarf Doe
DOB: 05/01/21
ADGA#: D2171096
Disbudded
ADGA Pedigree
DHIR/LA
2022 (FF): DIM   In Progress

01-04 +V+V 86 – Excellent in Back & Rear Legs. Very Good in Dairy Strength, Mammary. + in General Appearance, Body, Front Legs, Feet, Rump. G in Head & Shoulders.
Show History
2022: Northumberland County Fair, Sunbury, PA
2022: Schuylkill County Fair, Auburn, PA

Best in Show
Grand Champion
Senior Champion
1st Place – Best Udder
1st Place – Age Class

2022: ADGA National Show, Harrisburg, PA
2021: NJ Summer Sizzler Show, Frenchtown, NJ

Ring 1: 2nd place – Age Class (Open Show)
Ring 2: 2nd place – Age Class (Open Show)
Pedigree information listed for reference only. The following are not all owned by Grace Hill Farm and all show & picture credit is listed accordingly.
Sire
Better Wayz Hammer In the Sky *B
Nigerian Dwarf Buck
DOB: 02/27/2016
ADGA#: D1885168
Disbudded
ADGA Pedigree
Better Wayz Hammer In the Sky *B (aka Thor), is the son to the littermate sister of the highest appraised Nigerian – SGCH Old Mountain Farm Swift-Leigh EEE93 and his sire's dam is SG NC Promised Land MG Diva VEEE91 who has the highest PTI to date – PTI21: 575 & PTI12: 354. This gorgeous guy throws consistent correct structure and great milking ability which are being proved in his daughters – Check out A Little Funny Farm HS Syrah 6*M VVVV88 and A Little Funny Farm HS Mai Tai 6*M VVEE90.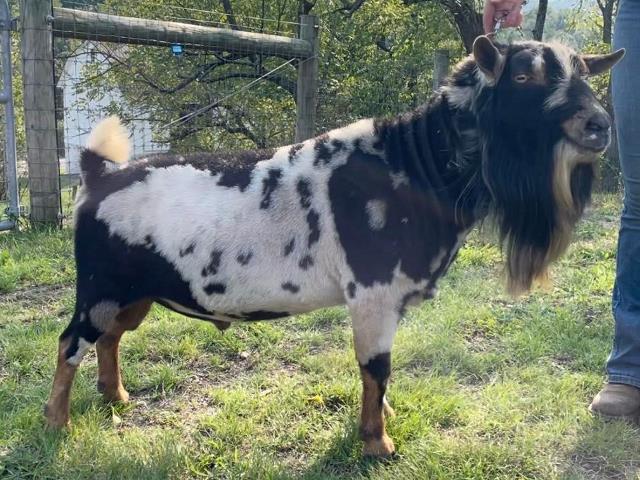 Dam
SG India Blue EOF Jinsing 5*M – Superior Genetics!
Breed: Nigerian Dwarf Doe
DOB: 3/8/2017
ADGA#: D1878213
Disbudded
ADGA Pedigree
Jinsing has the length of bone and each time judges see her in the show ring, they comment how elegant she is! She has earned Superior Genetics and her milk star in Lbs, Fat, and Protein! She milked 5 lbs of milk as a 2F at 19 DIM! In addition, Jinsing has her Restricted Leg toward her championship. As she matures, she's looking more amazing!
Sires's Sire
SG Old Mountain Farm Elton Jay ++*B
Elite 85 VEE
ADGA#: D1670916
Sire's Dam
SG Old Mountain Farm Oliv a Suddn 3*M 89 EEVV
ADGA#: D1508468
Dam's Sire
SG Alitta TS Eye of Freedom AV+ 81
ADGA#: D1730567
Dam's Dam
SG Sweet Garden FC English Ivy 4*M
VEEE 90
ADGA#: D1678902
Extended Pedigree
Sire: Algedi Farm H Thunderstruck ++*B VEE 89
ADGA#: D1403646
Sire: Rosasharn's UMT Hamachi ++*B 85 VVV
Dam: SGCH Rosasharn's TL Zenith 3*M SGCH 90 EEVE
Dam: GCH Alethia CTO Eye of the Sky +V+V 85
ADGA#: D1547939
Dam's Sire: SG Rosasharn BB Cento ++*B, LA 83 +++
Dam's Dam: GCH Algedi Farm RK Stella Luna 4*M 90 VEVE
Extended Pedigree
Sire: Fairlea Frederic Chopin +*B +++ 82
ADGA#: D1596657P
Sire's Sire: AGS Flat Rocks Night Raven +B
Sire's Dam: GCH Fairlea Marguerite 4*M GCH, LA 91 EEEE
Dam: GCH Tiny Town Treble 3*M VEEE 90
ADGA#: D1420250
Dam's Sire: AGS BRB Tiny Town FU Manchu, LA 87 V+E
Dam's Dam: SG Tiny Town Blue Suede Shoes 2*M, LA 86 V+E+