Old Mountain Farm Fat Chance *B
Nigerian Dwarf Buck
DOB: 04/26/20
ADGA#: D2092317
Disbudded
ADGA Pedigree
Pedigree information listed for reference only. The following are not all owned by Grace Hill Farm and all show & picture credit is listed accordingly.
Sire
Old Mountain Farm JohnQ Public VEE 90
Nigerian Dwarf Buck
DOB: 04/16/17
ADGA#: D1854353
Disbudded
ADGA Pedigree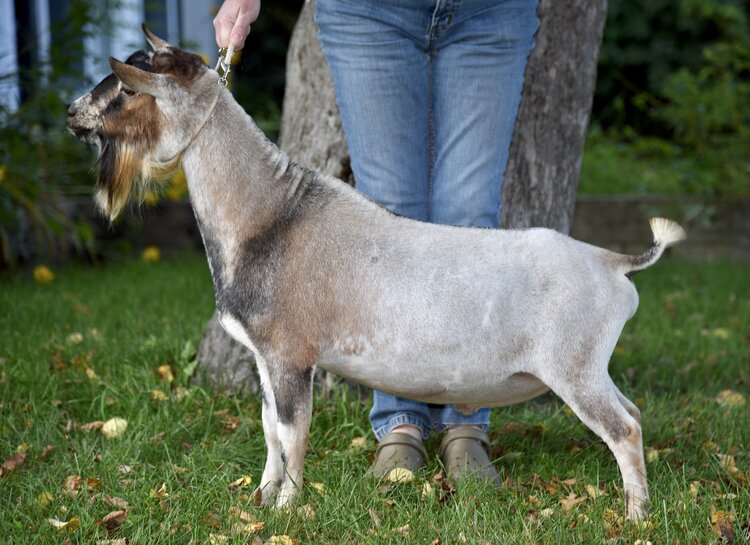 Dam
Old Mountain Farm Fat Tuesday 3*M EEEE 91
Nigerian Dwarf Doe
DOB: 02/17/15
ADGA#: D1714771
Polled
ADGA Pedigree
Old Mountain Farm Fat Tuesday 3*M is the littermate sister to CH Old Mountain Farm Merriment 3*M. Merriment is the 2017 ADGA National Champion, Best Udder, and part of the Best Dairy Herd. Merriment's daughter, CH Agape's Prize French Quarter 4*M is the 2022 ADGA National Champion.
Sires's Sire
Old Mountain Farm Allegiance VEE 87
ADGA#: D1584575
Sire's Dam
GCH Old Mountain Farm Ciervo 3*M
ADGA#: D1727344
Dam's Sire
SG Old Mountain Farm Bold Elk +*B
ADGA#: D1584569
Dam's Dam
Old Mountain Farm Anahita 2*M VEEE 91
ADGA#: D1478572
Extended Pedigree
SSS: SG Old Mountain Farm Cernunnos ++*B VEV 89
SSSS: NC PromisedLand Turb-Beau +*B
SSSD: Old Mountain Farm Tianna Quinn 4*M
SSD: Old Mountain Farm Wirosa
SSDS: Dawnland Tabby's Maritimer 'E' ++B
SSDD: Old Mountain Farm Tulip *D *M VEEE90
Extended Pedigree
SSS: Old Mountain Farm Bravado
SSSS: Old Mountain Farm Oliver Again
SSSD: SG Old Mountain Farm Ta-Dah! 2*M VEVE 90
SSD: Deldale Fawn*D 2*M 'E'
SSDS: MCH Denning Hill Michi Kasu 1*M 'E'
SSDD: Honeysuckle Ridge Dakota
Extended Pedigree
SSS: SG Old Mountain Farm Stag ++*B
SSSS: DawnLand Tabby's Maritimer ++B E
SSSD: Deldale Fawn *D E  2*M EEEV91
SSD: SG NC PromisedLand Nemesis 3*D 3*M VEEE 90
SSDS: Rosasharn SS Legolas*S
SSDD: SG NC PromisedLand BW Echo2 *D 1*M VEEE 90
Extended Pedigree
SSS: AGS Old Mountain Farm Just Zip It
SSSS:
SSSD: WIN Creeks AH Finale's Zip
SSD: AGS Roundabout Persian Princess 1*M
SSDS: Roundabout Maharajah
SSDD: Roundabout Triquad