Soft Style Goat Milk Soap contains added Glycerin which creates a softer bar of soap that attracts moisture to your skin after using it. This line of soap allows us to be creative while offering a soap that's fun and still provides a better option than the harsh chemical versions offered in stores today.
All of our soaps are hand cut so they range in size and weight from 3.0 to 5.0 oz. Because of this, we price by weight and prices range from $3.75 to $7.00. Prices include PA Sales Tax.
Goat's Milk Soap Ingredients: Coconut Oil, Palm Oil, Safflower Oil, Kosher Glycerin, Goat's Milk, Water, Sodium Hydroxide (saponifying agent), Sorbitol (moisturizer), Vegetable Propylene Glycol, Sorbitan Oleate (emulsifier), Oat Protein (conditioner), Titanium Dioxide (mineral whitener), Essential/Fragrance Oil (scent), Mica/Oxide (color)
Aqua Goat Milk Soap
A cologne scent made for men with Aqua Di Gio Fragrance Oil
Sold Out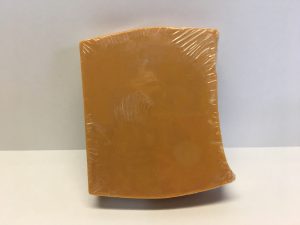 Boilo Goat Milk Soap
Inspired by our secret family recipe for Boilo, this soap has a spicy yet sweet smell
Breathe Easy Goat Milk Soap
You'll be breathing easy with Peppermint & Eucalyptus Essential Oils
Coconut Cream Goat Milk Soap
Coconut lovers, this one's for you, deliciously made with Coconut Cream Fragrance Oil
Coconut Lime Goat Milk Soap
You put the lime in the coconut, right? Made with Coconut Lime Fragrance Oil
Crazy Cane Goat Milk Soap
We got a little Crazy with the Peppermint Essential Oil, strong stuff.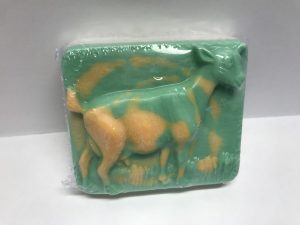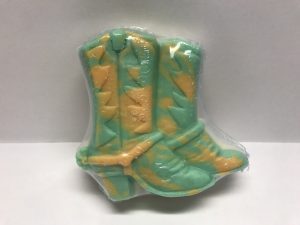 Cucumber Melon Goat Milk Soap
Isn't this one of the most popular scents? Made with Cucumber Melon Fragrance Oil
Creamsicle Goat Milk Soap
Who wouldn't want to shower with a Creamsicle? Made with Orange & Vanilla Essential Oils, it's very refreshing.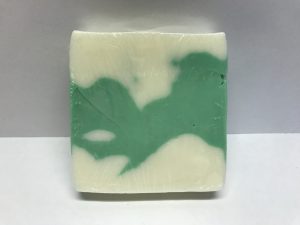 Eucalyptus Goat Milk Soap
Let Eucalyptus tickle your nostrils with a strong scented soap made with Eucalyptus Essential Oil
Honey Goat Milk Soap
Made with Local Raw Honey and Honey Fragrance Oil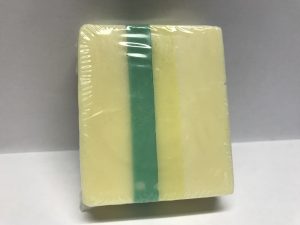 Lemongrass Goat Milk Soap
Clean and crisp, energize your shower with Lemongrass Essential Oil in your soap
Litsea Goat Milk Soap
A citrus & fruity scent that almost reminds you of 'froot loops' that made with Litsea Essential Oil
Minty Charcoal Facial Goat Milk Soap
Combine Charcoal & Spirulina Powder with Peppermint & Rosemary Essential Oils and you've got a facial soap
Pina Colada Goat Milk Soap
The delicious combination of Pineapple and Coconut, made with Pina Colada Fragrance Oil
Tea Tree Goat Milk Soap
With it's unique earthy aroma, Tea Tree Essential Oil has many uses. We use ours for soap
Thieves Goat Milk Soap
The legend of the almost magical oil blend that kept the 'Thieves' safe is made with Thieves* Blend Essential Oil
*Thieves is a registered trademark of Young Living
Unscented Goat Milk Soap
No scents or colors in this one. Just soap.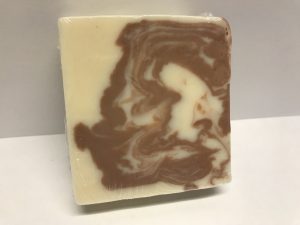 Vanilla Oak Goat Milk Soap
A soft musky smell from Vanilla Oak Fragrance Oil
Sold Out
Warm Vanilla Sugar Goat Milk Soap
A classic vanilla scent made with Warm Vanilla Sugar Fragrance Oil
Special Holiday Soap - Limited Time Only
Pumpkin Spice Goat Milk Soap
Pumpkin pie made into soap. What could be better than that?
Fragile Goat Milk Soap
It's a major award! But don't break the Leg Lamp – It's Fra-gee-lay! A warm holiday smell of Cinnamon Cocoa makes this a great gift for the fan of A Christmas Story.
Limited Quantities Available
Peppermint Bark Goat Milk Soap
It smells so good you'll want to eat it. But don't because it's just soap made with Dark Rich Chocolate and Peppermint Oils.
Limited Quantities Available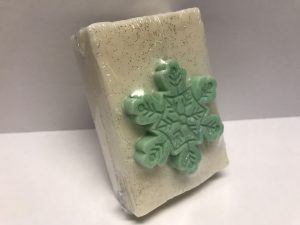 Limited Quantities Available
Holiday Snowflake Goat Milk Soap
A variety of holiday scents with a sparkly snowflake. Available in Apple Cinnamon, Cranberry Fig, Cinnamon Cocoa
Hard Style Goat Milk Soap is a harder bar of soap that is super cleansing full of natural glycerin and lasts a long time. This line of soap is the most basic form of soap loaded with oils and goat's milk.
Goat's Milk Soap Ingredients:
Oils (Olive, Coconut, Castor, Rice Bran, Almond), Goat's Milk, Sodium Hydroxide, Essential/Fragrance Oil
Alfalfa Goat Milk Soap
Alfalfa has lots of great benefits. This soap combines Alfalfa with Spearmint and Cedarwood Essential Oils.
Coffee & Milk Goat Milk Soap
We use goat milk in our coffee so why not put coffee in our goat milk? Coffee grounds help scrub and coffee is said to remove hard odors. We know the milk removes smell so try this one on your stinkiest smells.
Sold Out
Black & Tan – Beer Goat Milk Soap
Shower with beer? Yep. We've added a little yummy fragrance so you'll actually smell good instead of stale.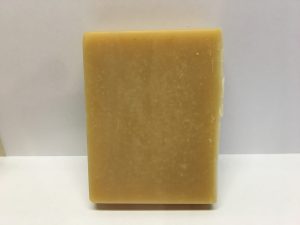 Housewives Goat Milk Soap
For the housewives that love that orange gritty soap but don't want to scrub as hard, we made our popular Mechanic's soap without the scrubby grit. Still packed with Orange Essential Oil for a strong citrus smell.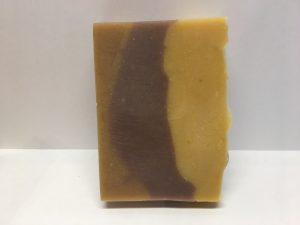 Lavender Goat Milk Soap
Made with local grown Lavender Essential Oil.
Mechanic's Goat Milk Soap
Love that orange gritty soap? So do we so we made our own with Goat Milk. Orange Essential Oil is a strong citrus smell and the scrubby grit is Walnut Shells.
Simple Goat Milk Soap
That's what it is. Just simple soap. No scent but lot's of Goat Milk in this one.
Who doesn't love a cute cuddly little stuffed animal? Here's some of our farm critters that you can take home with you.
Azalea Goat
She's super friendly and super soft. Azalea loves to cuddle and will follow you any where you go.
$16.95
Additional information:
Weight: 4.4 oz
Dimensions: 10 x 9 x 3 in
Age: 24 Months & Up
Machine Washable
Brand: Douglas – Gerti Goat
Ariel Goat
Snuggle up with Ariel, the littlest goat on our farm who is just adorable.
$8.75
Additional information:
Weight: 1.6 oz
Dimensions: 6 x 6 x 3 in
Age: 24 Months & Up
Machine Washable
Brand: Douglas – Buffy Goat
Thank you for your interest in Emily's Handmade Soap!
We will be accepting online orders in the near future. If you would like to order soap right away, please use the Contact Form on our site to reach us and we'll be happy to work on your order and make necessary arrangements.
Thank you for your patience as we continue to grow!
At age 8, our daughter Emily was introduced to goat milk soap. She instantly fell in love with the soap's scent, lather, and softness while using it in the shower. Little did we know the impact that soap would have on her.
The next day, she approached us and asked a simple question. "Can I start a business?"  "Sure," we replied, wondering what type of business a young girl would want to start. She proceeded to tell us all about the soap business idea she had. She explained what soaps she wanted to make, how we can use our own goats to provide the milk, and even took the time to draw a logo. With that kind of ambition at 8 years old, how could we not let her take off with her idea?
Emily made her first batch of soap in our garage on a summer afternoon. She couldn't wait to try it but it had to cure for 6 weeks. Try making a young girl wait that long to touch something she made! We began to explore the soap options to keep her soaping. She enjoys making soap and creating new scents and designs.
We invite you to join us on her journey as she continues to learn and grow her soap business. Thank you for supporting Emily!